Carriers
The Chess Store uses both the United States Postal Service and FedEx for all of our domestic and international shipping. The following are the domestic and international services we offer at checkout:
Domestic:
USPS First-Class Package (items under 1 pound)
USPS Priority Mail (1 to 3 days)
USPS Priority Mail Express
FedEx Ground (1 to 5 days)
FedEx Ground Home Delivery (1 to 5 days and includes Saturday)
FedEx Express Saver (3 business days)
FedEx 2 Day (2 business days)
FedEx Standard Overnight (by 8 pm the next day)
FedEx Priority Overnight (by 10:30 am next day)
International:
USPS Priority Mail International
USPS Priority Mail Express International
FedEx International Economy
FedEx International Priority
Free shipping!
The Chess Store offers Free Shipping on orders over $100 when shipped within the Continental US. Free shipping includes FedEx Ground service, USPS Priority Mail, and USPS First Class for packages under one pound.
Discounted FedEx Shipping
The Chess Store receives discounted shipping from FedEx and we pass these discounts on to our customers for orders that do not qualify for free shipping. The shipping you are quoted at checkout are the discounted rates. It varies by weight and location, but customer's on average save around 30% on shipping compared to FedEx published pricing.
Shipping to Home Costs More!
If you're using FedEx be aware they charge over $3 more to deliver to a residential address than a business address. If you can, please consider shipping to your place of business if allowed.
Signature Required
On orders over $400 we use Signature Required so that your order is not left at the front door unattended. The Chess Store picks up the tab for this extra service but we believe it's well worth it. We will contact you by email to make sure that you or someone will be home to take delivery of the package. We realize it's not always convenient but we'll work with you to make sure your package gets safely delivered.
How Fast do Orders Ship?
Orders are processed daily at 8 am PST so most orders ship next business day. However, there are always exceptions caused by the unexpected so we do not guarantee it. However, 99% of the orders do ship next business day and orders received in the morning by 8 am PST will ship same day. If you have a special need, please contact us and we'll try our best to meet your need.
Time-In-Transit (FedEx)
Time-in-transit or how long it will take to get to you does not include the day it ships, holidays, and weekends. For USPS Priority Mail you can include Saturday. Use the following FedEx Ground time-in-transit chart to determine your time-in-transit: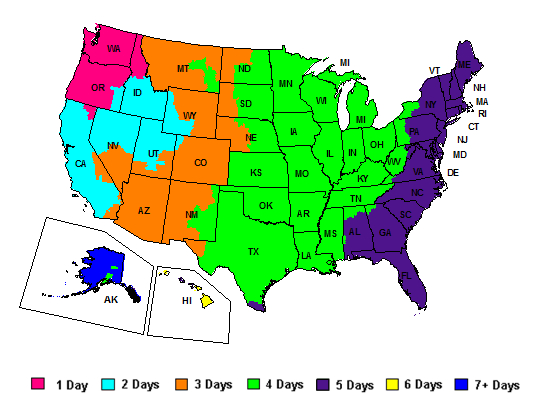 The Chess Store does not guarantee delivery times. Delivery times are guaranteed by the carrier. Some services are guaranteed and some are not and it is the responsibility of the customer to determine what service is needed and to what extent it is guaranteed. If a guaranteed delivery time is not met by a carrier, The Chess Store will make best effort to reclaim the shipping cost on behalf of our customer.
International Shipping
The Chess Store ships to all "safe" countries. Shipping options are displayed at Checkout but due to international shipping restrictions that vary by from country to country, some options might not be available. We will determine the actual shipping price based on the items ordered and how many packages will be required to ship the items ordered and contact you with the actual price. The shipping price will not include VAT, duty, and other import fees imposed by your country. These will normally be required to be paid by you at the time of delivery.