This chess set package includes our Fierce Knight Staunton Chess Set in Ebonized Boxwood and Boxwood matched with our Standard Walnut and Maple Chess Board. The polished black pieces create a nice sharp contrast against the walnut and maple chess board. Our Fierce Knight is a blend of contemporary and traditional Staunton design featuring knights that are carved with realistic features. The perked ears, eyes, mouth, and mane create a fierce looking countenance that gives this set its name. The pieces have an elegant profile that is carefully turned to perfection on every piece and the ebonized boxwood and boxwood are hand polished to a rich sheen.

The pieces are triple weighted for exceptional stability on the chess board. The bottom of the pieces are padded with the traditional thick green baize for easily sliding from square to square and a soft feel when placing. The chess board has 2.0" squares, the perfect size for this chess set. Together, an unbeatable value for a large tournament size, high quality Stauton chess set and practical wood chess board.
Chess Pieces:
Ebonized Boxwood & Boxwood
Pieces individually hand polished with solid lacquer and buffing wheel
King Height: 3.5"
King Base: 1.625"
King Weight: 2.3 oz.
Chess Set Weight: 44 oz.
2 spare queens are included for pawn promotion
Green Billiard Cloth Pads
Ches Board:
Material: Walnut & Maple Veneer & Wood Materials
Finish: Satin Polyurethane (soft sheen)
Square Size: 2"
Dimensions: 19" x 19" x .5"
Consider our locking Walnut Chess Box for storing these chess pieces!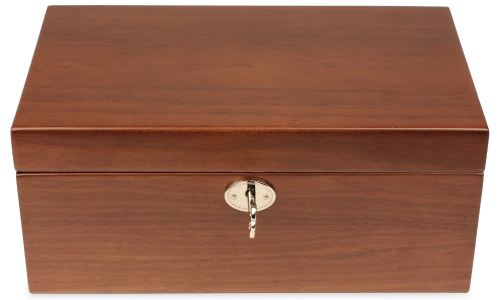 This was our first "real" chess set, and it's very beautiful! Both the board and the individual pieces have a great weight about them, and feel very sturdy. I'm sure the set will last us a great while. I was also very impressed with the intricate detail for the chess pieces. We got the box as well, and it is a great way to store the pieces for later. Very happy with this set!